Chester Francis-Jackson, Gleaner Writer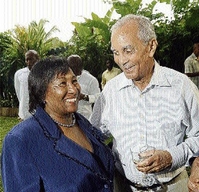 Dennis Lalor adds his congratulations to Senator Dorothy Lightbourne on her national award. - Ricardo Makyn/Staff Photographer
She is known for her dedication and tenacity. Not given to alarmist posturing or grandstanding, she has not only earned the respect of her colleagues in the legal profession, she has also earned the grudging respect and admiration of her parliamentary colleagues. And at a time when many have cause to question the character of some in the legal profession, Senator Dorothy Lightbourne is likened unto a pillar of rectitude.
Having served continuously in the Upper House as a senator since the 1980s, there were no surprises when the Jamaica Labour Party(JLP) assumed the reins of government and she was appointed to the post of attorney general and minister of justice. She has a reputation as one of unimpeachable integrity. On National Heroes Day, Lightbourne was accorded a national honour in recognition of her service and continuing contribution to the nation. She was awarded the Order of Distinction in the rank of Commander for over 20 years of service to the Senate.
Now, to celebrate the singular honour, her friend and colleague jurist Harold Brady, threw open the doors to his Cherry Gardens St Andrew residence, and hosted what proved a simply magnificent do.
Now Brady is known as a man of refined taste and charm, and both were in visibly abundance last week Monday, as he played host to what was easily one of the season's better parties! Luvs, beginning at two in the afternoon, the affair was as charming as charming gets, hosted as it were on the lawns and roof deck of the residence. Both areas were faultlessly decorated a-la-cafe mode, with a number of marquees strategically placed to contend with the inclement weather that threatened the proceedings. Dears, the rains stayed and friends and colleagues of the honouree from turning out in large and fab numbers to celebrate the occasion!
Brady's lawns and gardens teemed with a rush of colours from his fab orchids, a towering breadfruit tree also draped with orchids and you know we are talking a fab garden here! And so it was my dears, with strains of classical music - Bach, Beethoven, Rachmaninoff, Liszt, plus a number of others wafting across the lawns and helping to facilitate a warm and welcoming atmosphere. The host greeted arriving guests and the honouree received her friends and admirers who came to share in her moment of recognition. The sense of family and camaraderie was complete, and it made for a very special outing. And with cocktails flowing, sangria being the preferred cocktail, and a traditional Jamaican fare on offer, y'all know we are talking a smasheroni!
grace and piety
There was a brief interjection that saw the guest of honour being lauded by a number of her friends and colleagues, but no grandstanding, just a matter-of-fact acknowledgement of the grace and piety of the esteemed woman and it all made for a perfect outing. It was a most fitting manner to cap a day of accolades being piled on to the worthy daughter of Jamaica.
Among those out were Prime Minister Bruce Golding and wife Lorna and their children Sherene Golding-Campbell and Steven Golding. Also out were former prime minister Edward Seaga and wife Carla, Deputy Prime Minister and Minister of Foreign Affairs, Dr Kenneth Baugh and wife Vilma, President of the Senate Dr Oswald Harding and wife Marigold, Speaker of the House Delroy Chuck and wife Pat, Transport Minister Mike Henry, Minister of Culture and Sports Olivia 'Babsy' Grange, Tourism Minister Edmund Bartlett, Deputy Foreign Affairs Minister Senator Dr Ronald Robinson, Senator Tom Tavares-Finson and wife Rose Tavares-Finson, Senator Hyacinth Bennett, Senator Marlene Malahoo-Forte and husband Justice Ian Forte.
We spotted Chief Justice Zaila McCalla and husband William McCalla, DPP Paula Llewellyn, Solicitor General Douglas Leys, Judge Marva McIntosh, Judge Sinclair Haynes, Justice Hazel Harris, and sibling of the honouree, the charming Michelle Johnson.
Also out were Dr Denise Eldemire Shearer, Dennis Lalor, Kenny Benjamin, Jennifer Lim and her daughter Liz McAdam, Norman and Jean Wright, Neville Blythe, the esteemed Norma Linton QC, Mark and Julie Jones, Dr Eileen Boxhill QC, Ashman and Pat Samuels, the lovely Shirley Williams, Stella Henry, Dr Paul Brown and wife Kaye Brady-Brown, Steadman Fuller, Rowena Buddington, Heron Dale, Carrole Guntley, Ken and Elaine Chaplin, Clayton Morgan, Dorothy Carter-Bradford, Gordon and Fay
Hutchinson, George and Donna Soutar, Ronnie Coke and wife Ethlyn, Joel Williams, George and Lola Ramocan, Madge Broderick, Danville Davidson and wife Dr Marjorie Vassell, Beverly Little, Earl and Carol Lewis, Sean Azan, the charming Prudence Kidd-Deans and her lovely daughters, Joan Gordon Webley, Cindy Lightbourne, Kathy-Ann Pyke, Tony and Samara Walker, Vinay Walia and companion Sidjae Robinson, the noted Jacqueline Samuels-Brown, Teddy Charles, Rose-Marie Gibbs, Shalina Williams Rohan Powell, and the charming Petrina Francis, plus a number of others.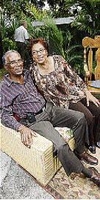 Gordon and Fay Hutchinson share a chair as they pose for Outlook.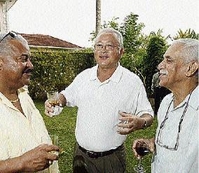 Bobby Muirhead (left), Delroy Chuck (centre) and Col Trevor MacMillan are in a vibrant conversation.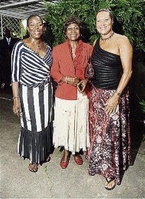 Stately dames make a great photo. Posing for us are (from left) Christene King, Lorna Golding and Paulette Brennan.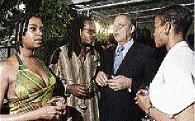 Prime Minister Bruce Golding (second right) raps with son Steven and daugher Sherene, while radio personality Empress looks on.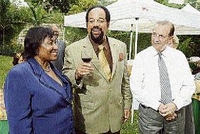 Senate President Oswald Harding (centre) toasts Justice Minister Dorothy Lightbourne at the reception to mark her national award. Joining in is former prime minister, Edward Seaga.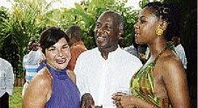 Harold Brady always seems to find himself surrounded by beauty. Here he lymes with Rose Tavares-Finson (left) and radio personality Empress.