Published: Sunday | October 25, 2009
Compete or die


Most reasonable people would agree that more than any other nation in our region Jamaica has underperformed and failed to meet the expectations, not only of our own people, but of others who have admired us...

What's a columnist for?


It's okay to boast about your art collection, your antiques, your athletic abilities, your musical skills, but not about your books.

The media, politicians and the public


Commendations to Robert Pickersgill, chairman of the People's National Party, for standing his ground under hostile media interviewing.

Two summits, two world visions


Two very important summits have been held within a month, each providing a radically different vision and plan for the better world order we so badly need.

'A woman we name!'


"A woman we name, so we born lucky!" - Lady Saw.Over the last three years, 141 Jamaicans have taken their lives, 128 men and 13 women.

Controlling violent crime: models & policy options - Pt 1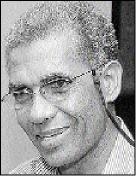 The following is the first part of an excerpt from the 2009 GraceKennedy Foundation Public Lecture Series presented by Anthony Harriott, professor of political sociology in the Department of Government at UWI, Mona.For sometime now I have been a student...