Published: Sunday | October 25, 2009
LETTER OF THE DAY: New killing fields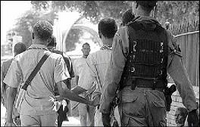 The Editor, Sir: Our inability as a society to protect the most vulnerable among us is being highlighted and exploited on a daily basis. Our little nation has, so far, this year, recorded over 1,000 murders; nine police men have had their lives extinguished and now our schools are deteriorating into killing fields.

Poor treatment from JPS
The Editor, Sir:In Jamaica, all the users of electricity are obliged to take the service from ONE company - the Jamaica Public Service.

Bad news for a good school
The Editor, Sir: As a middle-aged man who graduated from Ferncourt High School in 1974, I am extremely sad that the school has made the headlines for the wrong reasons.Ferncourt has never been one of those flashy high schools with great athletes...

No to school ban
The Editor, Sir:I would like to respond to V. Carnegie's letter (October 23) re: the killing of a student at Ferncourt high school. The banning of the school or schools from competitions as suggested is not the way to go.