And then it was time to really celebrate!
Our first stop was at Medallion Hall Hotel, located along Lady Musgrave Road in St Andrew, where trade unionist Danny Roberts, his wife and two daughters were fêted by family members and friends at a very intimate luncheon. Roberts had received the Order of Distinction in the rank of commander for his contribution to the trade union movement.
It was heart-warming to see a much slimmer Security Minister Dwight Nelson out to savour the moment with his long-time friend. We also spotted UWI Vice-Chancellor Emeritus Professor Rex Nettleford, trade unionist Lloyd Goodleigh, Owen and Lorraine Clunie, Maxine Henry-Wilson and husband Gladstone, Peter Phillips and Sandra Samuels at this celebration.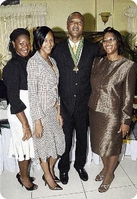 A proud moment for trade unionist Danny Roberts, his daughters, Sasha-Kay (left) and Sherice (second left), and wife, Geradine. - Photos by Norman Grindley/Chief Photographer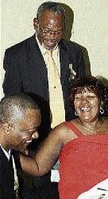 Danny Roberts (left) shares a laugh with Silvera and Viviene Castro at the post awards luncheon held at Medallion Hall Hotel in St Andrew on Monday, October 19.

From left: Silvera Castro, Joe Reid, Professor Rex Nettleford, Maxine Henry-Wilson, Danny Roberts, Dr Peter Phillips and Lloyd Goodleigh share the memorable occasion with their colleague and friend, Danny Roberts.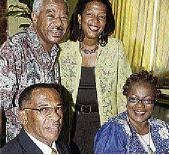 Out to celebrate with Danny Roberts are long-time friends, Errol Beckford (standing left), with Sandra Samuels, and Owen and Lorraine Clunie.
Eldon Bremner's Do
Next stop was The New Kingston landmark, The Jamaica Pegasus hotel where Nancy McLean, Marcia Erskine and O'Neil Brooks made sure the luncheon in honour of general manager Eldon Bremner run like clockwork. Ambassador Courtney Walsh, Tony Becca, Ambassador Madge Barrett and husband Arthur 'Tunty', Eleanor Girvan and Maurice Foster, plus family friends in from New York and Guyana, were just a few of the celebrants spotted. Bremner was conferred with the Order of Distinction in the rank of officer for services to the hospitality industry.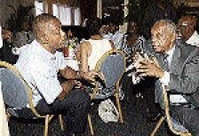 Two of West Indies cricket's big names, Courtney Walsh (left) and Tony Becca, are probably talking about the ills of the current squad.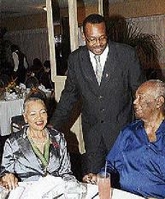 O'Neil Brooks (centre), of The Jamaica Pegasus Hotel makes sure Ambassador Madge Barrett and husband Arthur, 'Tunty' are comfy.

Michael Erskine (left) and friends, Dante and Larry Smith, from New York, celebrate with Eldon Bremner.
Dorothy Lightbourne
But the mother of all celebrations was held in Justice Minister Senator Dorothy Lightbourne's honour at the upper St Andrew residence of Harold Brady. From backyard to balcony, scores of guests mingled, lazed, reclined or simply stood with glass in hand. From Prime Minister Bruce Golding, his wife Lorna and children to just about every member of the legal fraternity left in the city for the holiday weekend, they all came out to toast the minister's health. But, I won't spoil the details to be outlined in Chester Francis Jackson's unique style.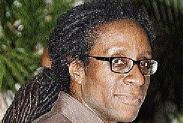 Richard Patterson also joined in the celebration for Eldon Bremner.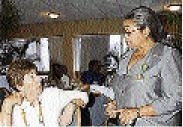 Hotel Manager at The Jamaica Pegasus hotel Nancy McLean (right) chats with Elena Girvan, one of the hotel's stalwarts.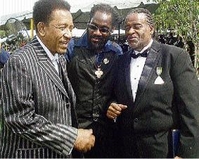 Three powerful figures in Jamaican music (from eft) Derrick Harriott, Tarrus Riley and Dean Fraser. Riley has words of congratulations to his elder colleagues who received their awards at the Ceremony of Investiture at King's House on Monday, October 19. - Photo by Barbara Ellington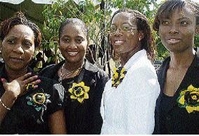 From Left: Julie Forbes, Keisha Lewis, Grace Harrison and Latoya Gittend sport beautiful rosettes in the national colours made by Cinderella Hats. The four were among the ushers at the Investiture ceremony.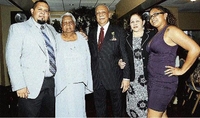 Family Picture: (From left) Heathcliffe Bremner, his grandmother Coar, father Eldon, mother Jennetha and sister Teisha take a break from the post-national awards luncheon to pose for Outlook.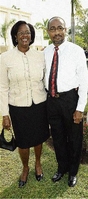 Ruth and Lascelles Fraser arrive at King's House. - Ricardo Makyn/Staff Photographer
Champagne toasts
It was then on to the hilltop residence of Executive Director of Jamaicans for Justice, Dr Carolyn Gomes, and husband Richard. They hosted a cosy fellowship and celebration with the extended family and colleagues. Congratulations accompanied champagne toasts and the recipient's proud father, Dr David Thwaites, gave Outlook a peek into the legacy of outstanding achievers in the family tree. Well done Dr Gomes, you have lived up to the expectations.
We spotted the always fabulous Gloria Moodie in from overseas and her best friend, Ruby Martin, Norman Marshall, David and Mary Wong Ken, Maurice and Valerie Facey as well as Richard and Yolande Lloyd Small in the gathering.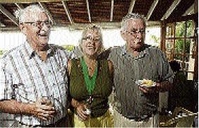 A family of doctors bask in the afterglow of success. Dr Carolyn Gomes with her proud father, Dr David Thwaites (right) and Uncle, Dr Peter John Thwaites. - Photos by Ricardo Makyn/Staff Photographer

Rory Thwaites (left) and Jason Baugh, nephews of Dr Gomes, preferred a quiet spot in the garden over the company of the adults upstairs.

Good friends, Ruby Martin and Gloria Moodie, are out to celebrate with Dr Carolyn Gomes.


A happy Dr Carolyn Gomes takes a little time out with her biggest fan, husband Richard.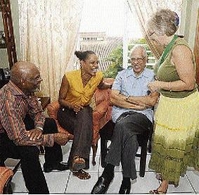 From left: Richard Small, his wife Yolande Lloyd-Small, Mel Warner and Dr Gomes enjoy a joke after lunch.


Dr Carolyn Gomes (left) greets David and Mary Wong Ken.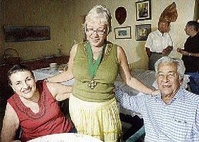 Dr Carolyn Gomes (centre) welcomes guests Maurice and Valerie Facey to her after-awards event.


Norman Marshall (left) enjoys a drink with Peter Jervis.


Ian and Shawn Wilkinson have something to be happy about at the luncheon in honour of Dr Carolyn Gomes, held at her home, following her receipt of the Order of Jamaica on Monday, October 19.
(barbara.ellington@gleanerjm.com)