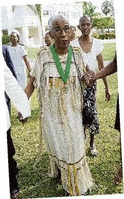 Dr Olive Lewin is assisted to her seat. - Ricardo Makyn/Staff Photographer
It was a beautiful day to honour our heroes. As is customary, Jamaicans from all walks of life converged on to the perfectly manicured lawns of King's House to witness the pomp and pageantry of the ceremony of investiture and presentation of national honours and awards on just over 100 recipients.
It was a tad difficult for many to readjust to the humidity of this prime piece of Jamaican real estate, having become accustomed to the air-conditioned comfort of the National Indoor Sports Centre along Arthur Wint Drive for the last few years. So, there were many trips to the tent where the team dispensing cold bottled water was kept busy cooling the human engines throughout the ceremony.
'maiden voyage'
Award recipients and their guests also had the privilege of several fans strategically positioned inside their tent. A very pleasant team of ushers made sure they were correctly seated after the presentations. But it was definitely a bad idea to dress them in all black (including jackets), for the occasion. Reminder, these are the tropics, say cool cotton blends please! The poor girls were literally cooked!
Governor General Sir Patrick Allen passed the 'maiden voyage' test. The armed forces on parade, delighted as usual and the first aid team hovering close by had no need to administer to revive anyone. This in spite of just one cool, dry face spotted among the guard of honour.
Perhaps because we are exposed to so much international television coverage, there was one disturbing incident that was quickly aborted by the police on duty. The offender, intent escaped the guards at the gate, loudly approached the proceedings demanding to see the Prime Minister!
As was expected, Olympic champion, Usain Bolt received the loudest cheer when it was his turn to be honoured. And what a picture of sartorial elegance he made! Well done, well done.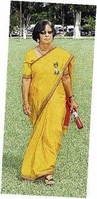 Sipragie Maragh looking as regal as ever.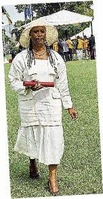 The stately Norma Rodney Harrack with her award.