Guinness insists on greatness within its rules
The sound system is the bedrock of indigenous Jamaican popular music culture, playing music made in Jamaica long before radio stations decided to give ska and its successors a spin.

'Night Of The Indigo': Breaking new literary ground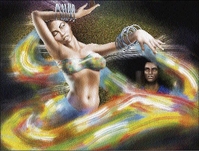 A Caribbean-based sci-fi novel may seem like a stretch of the imagination to most, but for dancer, choreographer, lecturer, singer, actor and now author, Michael Holgate, it has been a dream a long time in the making.

KEEPERS OF THE HERITAGE: Nanny's legacy thrives in Moore Town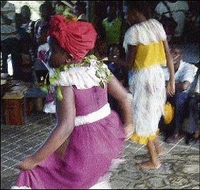 In his recently published book, The Chieftainess - Glimpses of Grandy Nanny, Colonel Charles Harris, former chief of the Moore Town Maroons, writes, "Death of the chieftainess occurs without mystique as the chieftainess knows when her death is imminent...

Hollywood gushes bloodsuckers in vampire boom
LOS ANGELES (AP):Vampires have been an eternal force in Hollywood horror since silent-movie days, yet they have risen to new heights as the Twilight franchise, as HBO's True Blood and other incarnations put the bite on viewers.In studio...

Trinity College celebrates Clive Thompson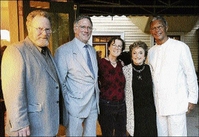 Dance and co-education walked hand in hand into Trinity College in Hartford, Connecticut in the fall of 1969 with the arrival of Clive and Liz Thompson. As resident guest artistes from 1969 to 1971, they introduced dance into the curriculum at this venerable liberal arts college, which was founded in 1823.

Merritone, Jerk Fest pack Hedonism III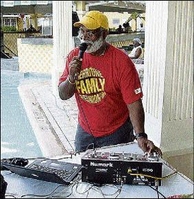 The current economic recession has forced the hotel sector to start placing some sort of focus on the local market in an effort to keep hotels open.Whether this impacted on the full house at Hedonism III over the Heroes'...

Reggae on a high Down Under


Hip hop superstar and reggae lover Wyclef Jean will headline the third Ragamuffin Reggae Festival which takes place again in New Zealand and Australia in January.A release from promoter Andrew McManus Presents said the...

Author, film-maker bursting with ambition

Earl Thompson is one of many upcoming film-makers yearning for an improvement in the local film and television industry. With great ideas, passion and determination, Thompson is embolden with the belief that he can be that catalyst for change.

Film fest wraps in Rome


ROME (AP):A Danish movie about a gay love affair between two members of a neo-Nazi group won top honours at the Rome Film Festival.Organisers also said last Friday that Helen Mirren had won the best actress award for her depiction...