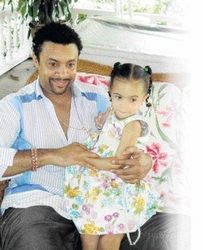 Photo by Barbara Ellington
Shaggy enjoys every moment he spends with his 'little princess', Sydney.
Barbara Ellington, Lifestyle Editor
What started some 10 years ago as a visit with a friend's sick child at the Bustamante Hospital for Children by international reggae superstar and philanthropist, Orville 'Shaggy' Burrell, has now evolved into the annual Shaggy and Friends fund-raising concert.
But first came the informal chat with nurses that led to a quiet personal cheque presentation. The staff was surprised but that then led to Shaggy's annual gift-buying/wrapping on Christmas Eve. These packages would be delivered, without fanfare, on Christmas Day for many years before the public glare caught up. You see, as Shaggy listened to the long list of needs of the hospital on that first visit, the parent in him was moved to do something.
"Back then, my children and band members helped me wrap presents for the children," Shaggy said in a candid interview at his St Andrew home last weekend.
Outlook caught up with the doting dad and and his four-year-old daughter, Sydney, before he went off to the studio to work on music for the upcoming concert.
As time went by, the store from which he bought the gifts began to donate them. Scotiabank volunteers and other artistes pitched in to help wrap the gifts and the rest is now well-publicised history. Soon the Shaggy Make a Difference Foundation was born.
Target amount
So, just how much would Shaggy's caring for the children's hospital cost? "We set a target of US$2m and, to date, we are at about half a million, but others like Digicel, Shakti Lovefest and the Sigma Fund Run have come on board," Shaggy said. And when asked about how transparency in the disbursement and utilisation of funds is ensured, he said the money is used to purchase equipment from a supply point in Florida and these items are turned over to the hospital.
"Some of the items are new or between six and 12 months old, and in excellent condition, but we also get the technicians to come to Jamaica and teach the hospital staff to operate them," he said.
He noted his initial surprise that the hospital, which is the only one exclusively for children in the island, was so inadequately equipped.
"When we went seeking help from corporate Jamaica, Dr Lambert Innis, chief of anaesthetics and intensive care at the hospital, assured prospective sponsors that having done it on my own for eight years, I was committed to the task."
The upcoming concert was planned over a longer time than the first one which took just eight weeks. "Back then, everyone had to check their egos at the door and just come prepared to work for the cause."
The Gleaner Honour Award recipient for voluntary service is happy they did. To him, it showed that we can, as a nation, make things happen when we put our minds to it.
Respect fellow musicians
He is even more thrilled that, based on the response to the concert last year, people actually understand the cause. He is convinced this is a good thing because the patrons are among parents of the children who will use the hospital at some time. He is particularly full of praise for his colleagues in the local music fraternity.
"I respect the fact that they give up their time at the point in the year when it's their major 'food' (money-earning) time. It is not easy to do that, and I respect it. I respect those who will support it and the other promoters of events who will not get corporate sponsorship because the same companies they approach would have already committed to us. Times are hard, so I respect that."
Shaggy is of the view that the local acts made last year's show a success and that is primarily why the focus on the acts, come January 2, 2010, is primarily local.
"It is Jamaica's hospital, so Jamaican singers and musicians are the ones who should be the stars on such a night. For an event like this, the international act is for colour, plus production costs must not exceed profit," Shaggy said.
There are at least two popular American artistes being negotiated to perform.
Outfits
Known for his fabulous stage attire, Outlook asked Shaggy to say what he'd be wearing on the show. He has a stylist but that role is more for international appearances. He revealed that for huge televised international appearances, there are designers who will even ask to dress you free of cost so their creations can be seen my millions. Not so for shows like this one.
His designer of choice is Dolce&Gabbana, whose pieces, he says, give him a better fit. "I have a good relationship with them but I will be buying my own pieces for this show."
And, he will not be making as many appearances as he did at the last show.
barbara.ellington@gleanerjm.com
THE LIGHTER SIDE
On reading:
Shaggy revealed that he does not really have free time. He told Outlook that he usually spends the time away from touring in the studio or doing more work. He does not have a favourite author and does not usually read anything but his bank statements and emails And, he said he would not be able to get past a paragraph because his mind is always moving rapidly as he focuses on being creative.
Favourite artistes - He loves contemporary international singer, Sade, because she is timeless, and he would love to record a song with her.
His favourite dancehall artiste is Elephant Man, whom he describes as an incredible entertainer, able to cross all genres, and is hilarious, colourful, smart and able to enjoy himself on stage.
His favourite reggae singer is Bob Marley, whom he sees as a classic.
Shaggy and Friends 2010 - The Caring Continues will be held on Saturday, January 2 at Jamaica House.
Read tomorrow's Flair for more of Shaggy's views on being a father, his relationship with his parents, children, the realities of reggae music internationally, views on the current state of the local dancehall music scene, and how musicians sacrifice to make it big.