Welcome to Rat Trap!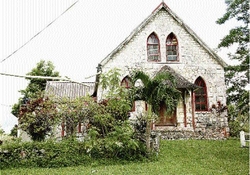 Rat Trap is a quaint community in Eastern Westmoreland, the constituency of former Prime Minister P.J. Patterson. It is situated at the foot of the Belvedere Mountains and is surrounded by Kew Park, formerly an extensive farming property....

Police youth clubs bridge the gap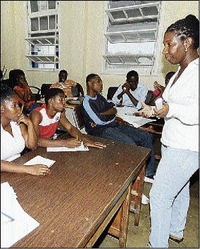 With recent reports of friction between the police and communities across the island, it would seem that the gap between the police and the community is becoming wider and wider each day. However, coordinator for the police youth clubs ...

JPS, NWC to team up for hydropower production
The Jamaica Public Service Company Ltd (JPS) and the National Water Commission (NWC) are finalising a memorandum of understanding (MOU) to formalise a joint venture between the two utility companies, which will see the Constant Spring Hydroelectric...

How do I get temporary status for my family?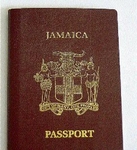 Q. I am a foreign national with a permit to work in Jamaica. How do I get temporary resident status for my family so that they can be with me in the island? A. Your reference to "temporary resident" status is taken to mean the period of extension...

Court rules for Election Petitions Act necessary - Dabdoub
Attorney-at-law Abe Dabdoub has called for court rules to be made under the Election Petitions Act so that election petitions can be heard expeditiously. Dabdoub made the call yesterday in the Supreme Court when defeated...

New posters published for Heritage Week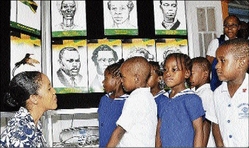 Wonder World Child Care Centre in Kingston yesterday received the second in a series of donations from the Jamaica Information Service (JIS) as part of its Heritage Week activities to promote its newly published posters of the national heroes and symbols...

The prayer of a neighbour


Hi neighbour! With your permission and for the benefit of first-time readers, I restate the primary purpose of this column. Through these weekly articles we endeavour to reawaken the spirit of neighbourliness among our people. In the process we hope ...

Greater St Catherine residents seek better life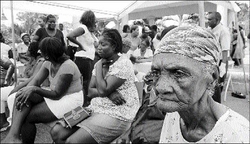 All some residents of greater St Catherine want is a chance to live a better life. They, however, think that their chances at a higher standard of living are being stifled by a system that does not care much about them...

ACROSS THE NATION

Buchanan wants better roads in Westmoreland - Scott's Cove, Westmoreland: Despite Jamaica having been spared a major hurricane this season, one member of parliament is hoping that the bad weather does not only stay away but also for improvements...