George Henry, Gleaner Writer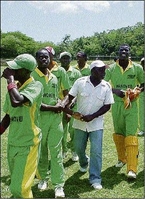 Hanover Dolphins players make their way off the field after beating Kingston and St Andrew at Alpart Sports Club, Nain, St Elizabeth, yesterday. - photo by George Henry
Hanover and Melbourne Kangaroos came out winners in yesterday's quarter-final matches in the Red Stripe Twenty20 Championship cricket double-header at Alpart Sports Club in Nain, St Elizabeth.
Both advanced to Saturday's semi-finals at Sabina Park, following wins over Kingston and St Andrew and St Elizabeth Warriors, respectively.
In the first game between Hanover and Kingston & St Andrew, Hanover who won the toss and decided to bat, faced some rather torrid bowling and were eventually bowled out for 117 off 19.5 overs.
Kingston and St Andrew struggled throughout their innings and were eventually bowled out for a paltry 58 runs, with five overs to spare, giving Hanover victory by 59 runs and a place in the semi-finals against St Catherine Saints.
Top score
Rohan Williams, 26, was the only batsman with any score of significance. Damion Distin, four for 12 and Jermaine Blackwood, three for three, were the main destroyers for the Hanover team.
In the day's second game, Melbourne Kangaroos won the toss and asked St Elizabeth to bat and they got off to a very good start with Brenton Parchment and Damion Ebanks. The two scored 48 runs off the first four overs with some hefty blows, while providing much entertainment for the fair-sized crowd on hand, until Parchment went for 13.
Shawn Findlay joined Ebanks, who went for 41 at 74 for two, as the Warriors eventually accumulated 142 for eight from their 20 overs.
The main wicket takers for Melbourne were Omar Allison, three for 21, Tafari Williams, two for 22, and Donovan Pagon, two for 15.
Melbourne Kangaroos scored 145 for eight wickets in 19.1 overs.
Top run getters for Melbourne were Pagon, who made 55 and who went caught when the score was 99; and Tafari Williams, who made 42.
Bowling for St Elizabeth Warriors, Donovan Nelson and Alton Beckford both took 2 wickets.
Beaten by a good team
St Elizabeth's coach, Richard Walters, said: "We did not support well in the outfield. I think we bowled too many bad balls but overall we were beaten by a good team.
"We will have to improve our play in the limited overs version of the game. Overall, I think my players tried their best. We were down with a few injured players and that kind of set us back," explained Walters, who congratulated Melbourne and wished them all the best in their next match against Manchester in the semi-final.