Rasbert Turner, Gleaner Writer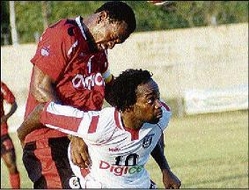 Rivoli's Omar Parker (left) heads the ball away from Arnett Gardns' Leon Strickland during the Digicel Premier League encounter at Spanish Town Prison Oval yesterday. Arnett won 3-1. - Ricardo Makyn/Staff Photographer
Arnett Gardens' player/coach, Fabian Davis, said their winning 3-1 scoreline against Rivoli United at Spanish Town Prison Oval yesterday is the beginning of a rebuilding process from which his team is aiming to gain at least 21 points in the first round of the Digicel Premier League.
"The match this afternoon shows that we have lifted our game plan and it was well executed," said Davis. "We're under no illusions that Prison Oval would be a hard hunting ground. However, this (win) reflects the start of things to come for Arnett Gardens."
He added: "In fact, we are resurging to where we truly belong."
The Junglists had lost all four of their previous matches and now have three points from five. Rivoli, losing for the first time this season, remained on six points.
Last season's leading goalscorer, Devon Hodges, scored a penalty to give his team hope, then miss another penalty that dashed their chances to equalise, while trailing 1-2.
Third-minute goal
Arnett Gardens took the initiative early and played cohesively, with Dwayne Plummer, Leon Strickland, Davis and veteran Oneil Robinson combining well.
They were duly rewarded in the third minute through a solo effort from Davis, who scored to make it 1-0.
Rivoli rallied with Valentine Gardener, Hodges, Kirk Ramsey and Kemar Brown leading the charge and at the 13th minute, Gardener collected the ball, then laid it off to Ramsey who was tackled to the ground in the six-yard box. Referee Lewin Purser pointed to the penalty spot, from where Hodges converted the spot kick on the second asking, as his initial attempt was blocked by goalkeeper Leighton Murray.
Parity in the scoreline would not last long, however, as three minutes later Plummer sent shivers down the spine of the Rivoli supporters when he collected a pass in the six-yard box and made no mistake, scoring to make it 2-1 in favour of the former champions.
Three minutes in the second half, Rivoli should have equalised. But Murray responded excellently to deny Hodges a second goal.
Second penalty
Hodges got an even better oppportunity when his team was awarded a second penalty at the 50th minute after Ramsey was brought down. But Murray saved Hodges' penalty, sending off cheers from the Arnett Gardens supporters.
The intensity picked up and five players were yellow-carded as Purser moved to assert control.
It was substitute Kevin 'Pele' Wilson who had the final say though when he took a beautiful free kick, left-footed, that curled into the 'pigeon hole' of Rivoli's goal.
That was at the 89th minute and sent scores of Rivoli supporters rushing from Prison Oval.
"We did not attack nor defend. It is simply that we were not prepared for the opponents," said Rivoli's coach, Oneil Thomas. "All in all, it was a good game, we have to come better next time."