Claudia Gardner, Gleaner Writer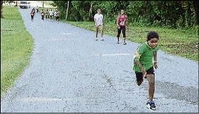 Six-year-old Adrian Vanderhoof is a picture of concentration, as he sprints up the hill while competing in the JMMB/CUMI Come Run 5K race at the Tryall Hotel grounds on Saturday. - Photo by Claudia Gardner
TRYALL, Hanover:
Israeli-born Jamaican Israel Pinchas won the inaugural Jamaica Money Market Brokers (JMMB)/Committee for the Upliftment of the Mentally Ill (CUMI) Come Run 10K race at the Tryall Hotel grounds in Hanover on Saturday.
Pinchas, 37, clocked 44:45 to finish ahead of Stephen Royes, who timed 46:04 for second and third-place Dale James, who completed the race in 52 minutes and 30 seconds.
In the female category, Sheila Pinto, also 37, clocked 59:47 to win ahead of Annelia Francis and Caryll Mullings who came in at 1:07:06 and 1:10:17 to cop second and third, respectively.
"It was a great course, great race and it felt great to win," Pinchas said following the race. "Coming up the hill felt challenging, but in general it was good. I did not really enter with the prize on my mind, but really in support of CUMI because any person who passes the finish line wins in any case," he said.
'Amazing feeling'
Pinto expressed the same sentiments as Pinchas.
"It was fabulous. The hills were pretty big but it was good. It was an amazing feeling to get a medal put on by someone who has been helped by CUMI. It is a great feeling," she said.
In the other event of the day, Jermaine Rerrie won the 5K in 21:42 seconds, while Raquel Dadlani won the female category in 30:52.
A total of 122 participants turned out for the race, which ended shortly after 9 a.m. when the last runner, Wendy Duncan, came in.
Joy Crooks, nurse administrator at CUMI, told The Gleaner she was overwhelmed with joy at the success of the event.
"I am elated, I can''t describe the feeling, I am about to take off. It just goes to show that there's always life after mental illness. This has been a fantastic turnout, way beyond my expectations. I am glad the clients are here to see the sort of support behind CUMI so they can continue their treatment," she said.
The fund-raiser was geared specifically at injecting finances into the CUMI Trust Fund, to ensure the organisation's sustainability. The fund requires a minimum of $10 million to generate a monthly income to sustain its general operations, serve its clients and to continue its contributions to the less fortunate.