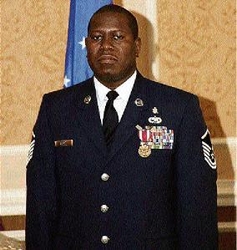 Denton Davis. - Contributed
On August 6, while Jamaicans celebrated 47 years of Independence, a son of the soil, Special Agent Denton Davis, who resides in the United States, had more than one reason to celebrate.
He, along with family, friends and colleagues gathered at Langley Air Force Base (AFB) in Virginia for his retirement ceremony. Davis served in the United States Air Force for 22 years. The official ceremony was to honour him for his years of service and dedication to his adopted nation before his actual retirement date.
Colonel Keith Givens, commander of the 7th Field Investigations Region, Air Force Office of Special Investigations (AFOSI), was the presiding officer. He commended and praised Davis for his outstanding and distinguished dedication to duty, for helping to keep America safe and for going above and beyond the call of duty as an American citizen while staying true to his Jamaican roots.
Born to Linda Gordon and Vincent Davis on December 31, 1968, in St Catherine, Davis grew up in the Mount Rosser area with his grandmother, mother and five siblings. He attended Mt Rosser Primary School and later transferred to Ewarton Primary before moving on to Charlemont High School in 1980 where he excelled and graduated in 1985 despite difficulties.
Emigration
In 1980, his mother emigrated to the United States to seek a better life. Davis joined her six years later. He attended George W. Wingate High School in Brooklyn, New York, for a year and graduated with honours. By September 1987, he enlisted in the Air Force and excelled as a medical laboratory technician for 10 years before cross-training to the AFOSI.
Basic investigator training came next, followed by an assignment to AFOSI Detachment 601 in Hickam AFB (Hawaii) in 1997, where he conducted general criminal investigation. He managed the Acquisition Fraud Programme until he was reassigned to AFOSI Detachment 802, Patrick AFB (Florida) in June 2001 as the Infrastructure Protection/Information Operations (IP/IO) Programme Manager. He also served at the Royal Air Force Lakenheath, United Kingdom, and in Qatar.
Currently assigned to the Air Force Office of Special Investigations, 2nd Field Investigative Region in Langley AFB (Virginia), his duties include managing readiness training, preparation and forward deployment tasking of over 200 personnel at 20 field units.
Service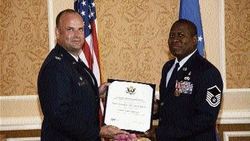 Special Agent Denton Davis (right) receiving his certificate of retirement from Colonel Keith Givens. - Contributed
During his years of service, Davis has served five presidents, volunteered for several deployments in support of Operation Enduring Freedom and Operation Iraqi Freedom, and travelled to over 30 countries including Afghanistan, Australia, Germany, Iceland and Kuwait. When he visits Jamaica, he always gives motivational talks to students.
He is the recipient of many medals and awards, including the Meritorious Service Medal, National Defence Service Medal (Bronze Star), Iraqi Campaign medal (Bronze Star), Humanitarian Service Medal and the Small Arms Marksmanship Ribbon. A certified private pilot, he holds a Bachelor of Science degree in management of technical operations from the Embry Riddle Aeronautical University.
Davis said his gifts included an American flag, the Air Force meritorious service medal and the AFOSI 10-year service pin. He expressed gratitude to his wife, friends, family, classmates and colleagues for their unwavering support. Some were at the ceremony.
always an ambassador for Jamaica, Davis reminded everyone that it was Independence Day in Jamaica and a video presentation fittingly began with reggae music featuring Beres Hammond and Buju Banton. His car was also adorned with Jamaican souvenirs.
All the guests at the ceremony agreed that Davis deserved the kudos for his humility, loyalty to his roots and service to his adopted country.