COVER STORY - The 'game' is just beginning - Director Jay Will filming his way to success
Latoya Grindley, Gleaner Writer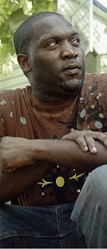 Jason Williams is a single father who is totally devoted to his son. - photos by Peta-Gaye Clachar/Freelance Photographer
At the age of 31, Jason Williams aims to create a legacy as the greatest film maker who ever existed locally and be listed among the best, internationally.
Known mostly as Jay Will in the music and film industries, Williams has been directing music videos since 2003. His love for this was fuelled by his introduction to television production in high school.
"I moved to Florida and while in high school there I became involved in various aspects of television because we had a television station that I was heavily involved in."
That introduction was what later guided Williams to his chosen career path.
"After high school I went on to film school for a year and then I went on to study journalism." While in college, he interned at various television stations including NBC, ESPN and MTV. After graduating he did a stint at CBS and then took up a job offer at MTV, working in various posts and departments.
His passion
While working a full-time job, music video directing was his passion and the time came when he had to make a decision to either put an end to his job or allow his involvement in video production to die a slow death.
"I was always moving back and forth to do videos in Miami and even Jamaica. But then there was a conflict of interest and I had to choose between music video directing and my work at MTV because my side job was getting in the way. I had to decide to work with others or for myself."
Luckily, he had jobs in the pipeline so making the decision was not hard. He decided to move back to Jamaica and lived in hotels before settling down. Williams has now created a name for himself and he is in his element.
"I like being able to let visions and thoughts come alive. Thinking of it and then seeing my ideas on TV is a great feeling. I have the power to make concepts come alive," he said, smiling.
When you love something and in this case it's your job, it is hard to separate it from your normal life. Some will say you eat, sleep and breathe it, but he plays, hears and sees it.
"When I have a music video to do, I listen to it (the song) for a couple of weeks on my Ipod and in my car. But sometimes it is a curse because even without getting a request to do a music video, when I hear music, I just see images," he said, chuckling.
Concepts for music videos are generally left up to him. However, there are times when he gets input from the artistes.
"That is hardly the case though because most times it is left up to me. There are times when there is just one request from the artiste, like something that is meaningful to them. For instance, if they say, 'make sure my mother is in my music video', I will try and fulfil that wish."
With his level of experience both locally and internationally, and a solid educational background, Williams has an edge over others in the industry.
"I work with high- and low-budget videos but still I try to make them with an international appeal. With my diverse background, I am able to put my experience into my work."
Over the years there has been an increase in the number of music video directors and an equally marked increase in the number of 'hustlers' in the business. That fact gave birth to the Game Over signature by Jay Will.
"There was a time when I felt like a lot of people were hustling the business, so it was like if you had a camera you just start shoot and call yourself a director. Some were beginning to take the art as a romping thing so I did a music video and at the end I just added 'Game Over'. His name has become synonymous with that signature ender.
Obvious growth
Admitting that there is obvious growth and a greater demand in the industry, he is anticipating bigger breaks. Having worked with many local artistes, including a significant number of the top dancehall and reggae acts plus a number of internationals such as Kanye West and MIA, he wants to participate in even bigger projects.
"As the song says, my life soon 'sort out' because it is a very promising industry. Eventually, I want to do more music videos internationally. They are out there, people are seeing them," said Williams, who also considers himself a storyteller.
Refusing to be complacent with his achievements to date, Williams operates his own company, Jay Will Films. He has also been directing television commercials which he said prompted his decision to take up fewer offers to direct music videos this year.
His hectic life includes being a single father to a nine-year-old-son.
"My son is my heartbeat. I have had him since he was five months old and just when I was leaving college. I had to learn how to change diapers and everywhere I went he was with me. When I was moving back home, he was right there with me." His relatives show their support by helping him to raise his son.
Though his specialty is music videos and commercials, it is merely practice for what's to come. "I want to do feature-length films that are of international standard and that are recognised internationally. I also want to do films that will embrace and highlight the Caribbean culture in a positive way."
latoya.grindley@gleanerjm.com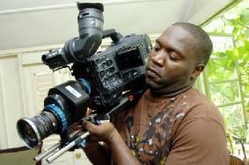 Jason Williams is able to see what a music video will look like by listening to the music over and over again. - Peta-Gaye Clachar/Freelance Photographer