Published: Monday | September 28, 2009
'Ocean Style' and Kerry bring high fashion to Half Moon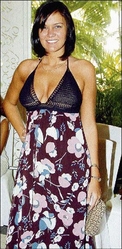 Slovakia fashion designer, Lubica. - Winston Sill/Freelance Photographer
THE SECOND incarnation of the Ocean Style magazine and Kerry manwomanhome Fashion Showcase will kick off at the exquisite Half Moon Resort on Saturday, boasting an enviable agenda of A-List designers.
The show starts at 9 p.m. following cocktails, and the organisers are promising a high-quality fashion extravaganza set to a Michael Jackson-themed evening titled Fashion Showcase 2009: The Gloved Experience. The showcase of fashion will include an eclectic mix of designers spanning urban to high fashion and will include a special showcase by Kerry manwomanhome designers Lubica, Meghan Fabulous and others. There is also a swimwear segment, an urban-themed segment and the show ends with a global tribute to the world of high fashion with the likes of Angel Sanchez, Alberta Ferretti, Moschino, Catherine Malandrino, Jean-Paul Gaultier, Reem Acra, Neem Khan and Roberto Cavalli.
This year, Ocean Style and Kerry have upped the celebrity factor with a partnership with ESPN, which is producing the Ocean Style/ESPN Golf Invitational where there is a US$1-million shoot-out prize on offer.
The celebrities confirmed to attend include retired heavyweight boxing champion Lennox Lewis, Andy Cole (formerly of Manchester United/England), Shaka Hislop (West Ham, Trinidad and Tobago and ESPN co-host), West Indies cricket icons Courtney Walsh and Jeffrey Dujon, actor Bryce Wilson, musician David Rudder, supermodel and TV host Tyson Beckford, celebrity stylists Misa Hylton-Brim and Phillip Bloch, and fashion industry icons Freddie Leiba and Constance White, along with celebrity publicist BJ Coleman.