Musicians among 2009 Musgrave medallists - Paulette Bellamy awarded silver; Marguerite Vernon bronze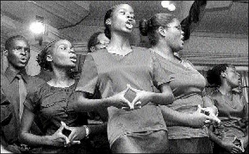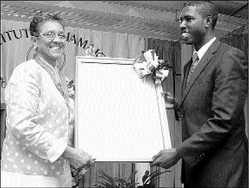 Photos by Peta-Gaye Clachar/Freelance Photographer
LEFT: The Jamaica Youth Chorale delivers an encore performance at the Institute of Jamaica Musgrave Awards ceremony.
RIGHT: Senator Warren Newby, representing the minister of youth, sports and culture, Olivia 'Babsy' Grange, presents Paulette Bellamy with the Musgrave Medal citation for her contribution to music.
Mel Cooke, Gleaner Writer
Two musicians, Paulette Bellamy and Marguerite Vernon, were among the 12 people presented with Musgrave medals at the Institute of Jamaica's (IOJ) lecture theatre, East Street, Kingston, last Wednesday afternoon.
Bellamy's silver Musgrave Medal was presented by Senator Warren Newby (representing Minister of Youth, Sports and Culture Olivia Grange), while former prime minister and fellow of the IOJ, Edward Seaga, placed Vernon's on her with aplomb.
The award was established in 1889 in honour of Sir Anthony Musgrave, governor of Jamaica from 1877 - 1883 and who founded the IOJ in 1879. It recognises notable contributions to literature, science and art in Jamaica and the West Indies.
Distinguished eminence
A gold medal is awarded for distinguished eminence, a silver for outstanding merit and a bronze medal for merit in any of the three fields. The Musgrave Youth Medal, which Courtney Foster received for community service last Wednesday, is awarded to people between 15 and 30 years old.
Professors Rupert Lewis and Ronald Young alternated reading the citations for the silver Musgrave awardees, Bellamy's informing the near-capacity audience that her "musical prowess runs the scale of performer, director, teacher, composer and music entrepreneur". The third title, however, is the one closest to Bellamy's heart, as the citation read further that "of all her musical endeavours, however, Mrs Bellamy is most proud of her JCDC (Jamaica Cultural Development Commission) gold medal-winning students Najee Leslie, Rochelle and Ashley Haynes, Michelle-Ann Gabbadon, Aaron Lawrence and Jovani Williams".
Merline Bardowell read the bronze Musgrave awardees' citations, Vernon's underscoring her dedication to grooming young musicians. The citation reads in part: "So committed is Mrs Vernon to music teaching that she gave up performing with the Billy Vernon band, led by her husband, to devote her time to teaching the students of Mount Alvernia and, even though she retired in 2001, she still teaches there part-time and continues to play the piano for school events."
And there was laughter when Bardowell read "one community person even remembers her in a festival float parade on the back of a truck playing the piano ... ."
The 2009 gold Musgrave Medal awardees are the late Wycliffe Bennett for development of the arts and Professor Maureen Warner-Lewis for literature. Bennett's award was presented at the University Hospital of the West Indies on August 28 and host of last Wednesday's presentation, Professor Barry Chevannes, asked all to stand for a quiet minute in honour of Bennett, Trevor Rhone and Wayne Brown, cultural standouts who died recently.
Other awardees
Kei Miller (literature), Professor Helen Jacobs (organic chemistry), Professor Gossett Oliver (engineering) and Jean Smith (arts administration) were also awarded silver Musgrave medals. Wendy Lee (environmental conservation), Diana McCaulay (environmental conservation) and Rhona Welsh completed the bronze Musgrave medallists for 2009.
Trombonist Everton Pessoa, the Jamaica Youth Chorale, dancer Nikita Johnson and drummer Phillip Supersad added rhythm, rhyme, movement and music to the 2009 Musgrave Medal awards ceremony.