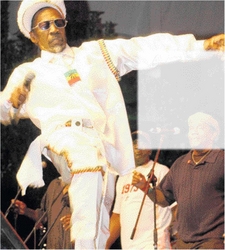 File
Bunny Wailer wrote the lyrics to 'Electric Boogie'.
Mel Cooke, Gleaner Writer
When Bunny Wailer wrote Electric Boogie for Marcia Griffiths, the track crackled with the energy of childhood friendship then intermittent contact in later years as their musical paths crossed (Wailer remembers Griffiths coming to Camperdown High to sing as a teenager, then auditioning her as part of a group at Studio One).
And, as he tells it, it seems that Wailer was plugged into the current of popular music of the late 1970s when Griffiths recorded Electric Boogie, and the amperage of music trends to come, as his prediction of a hit, even if it took a decade, became reality.
Griffiths had a very active 1970s, touring with the I-Threes doing harmony for Bob Marley and the Wailers. When she returned from one tour, Wailer visited her and said "waapen, I think you should still pursue you solo y'nuh. She welcome that, so we start write some songs fi har". The first was Tribulation, which got airplay but didn't have a big impact. He tried again, but decided to go into the "pop situation".
Electric Avenue
And that meant drawing power from what was connecting with the public at the time.
"There was this track at the time being played called Electric Avenue (by Eddy Grant). That was the most popular song then. So me sey if me ago think pop, me haffi start smell roun' dem kitchen deh. So you going down Electric Avenue to do what? Because him don't stipulate. So me sey him mus ago do the Electric Boogie. So me jus' start formulate the song," Wailer said.
"The song was recorded properly, for we did it good," Wailer added, naming engineer Dennis Thompson, drum and bass duo Sly and Robbie, the Ras Brass outfit of Dean Fraser, Nambo Robinson and Chico Chin and himself playing the keyboard intro in the session at Dynamic Sounds.
Griffiths and Wailer did the harmony vocals.
"That song went number one in Jamaica, as a R&B. You know when you attempt something that is not really your territory? But we did it so convincing that it became number one in Jamaica and I think it was number one in Trinidad," he said.
Electric Boogie caught Chris Blackwell's attention but Wailer was not interested as "we were building a good album for Electric Boogie to be a part of", Rock and Roll Reggae and Woman a Come, among the other songs slated for the set. However, it worked out that Blackwell was given the single, with the intention that he would handle the album as well.
Remix
It was the beginning of absences and backing and forthing with Electric Boogie, including a remix at Music Mountain ("it didn't sound better and it didn't sound worse, because is a song whe just build, anything you do with it, it right".) There was another absence and Wailer says "Marcia was very upset".
He also says that Blackwell mentioned preferring Judy Mowatt to do Electric Boogie, but Wailer says his connection was not the same as with Griffiths.
Wailer says he comforted Griffiths, telling her "if is 10 years from now, this record going be a smash".
That was in 1979, going into 1980.
In 1990, Bunny Wailer was doing the Liberation tour in the US with the Skatalites and, due to financial shenanigans, it was cut short in New York. While the musicians went home, Wailer stayed in the 'Big Apple' and started doing production work on an album for a young music hopeful as well as one for himself. Wailers' album was titled Just Be Nice and was designed to have crossover appeal in the vein of Bobby Brown and Michael Jackson. He figured that "if I did Electric Boogie and it did what it did in Jamaica, then in America if I was to try doing tracks like Electric Boogie then I might hit the chart, the real big chart".
"Electric Boogie, being the track I felt did not get any justice, I decided to do it over on this side of the pond. The first day I step out of the studio, laying the rhythm, I got a call from Doctor Dread (of Ras Records) in Washington, saying that the Electric Boogie record start selling again," Wailer said. And this was the first one, with Dennis Thompson at the mixing board.
Wailer kept working on his Electric Boogie, while the one done by Marcia Griffiths "jus a sell more and more and more and more and more until I mean, it just buss!". And he says Electric Boogie was recorded yet again with Marcia Griffiths.
He finished his album, including Electric Boogie, but says he held back from putting it out so as to not cause interference.
Wailer says it looked like the song was about to "become a craze or something", although it had not yet been promoted properly.
Naturally, Marcia Griffiths was required to be part of the real push behind Electric Boogie, an interview on BET being a major part of it. And it is that interview to which Wailer attributes the failure of Electric Boogie to really go over the top.
Childhood friendship
He says that when Griffiths was asked about the story behind Electric Boogie, she did not tell the tale of childhood friendship with Bunny Wailer and the twists and turns through the music industry, including success with Bob Andy, the I-Threes and touring with Bob Marley and the Wailers (the interviewer spoke about some of those elements of her career as well) that led back to a reconnection with her childhood pal and the song being the outcome.
He believes that tale would have engaged Americans.
"It faded into what it is now; anywhere it is played, people get up and do the slide. But it should have been a smash like Shaggy and Sean Paul. It should have been on Billboard. And it should have been a dance craze, like the Twist," Wailer said.
His Electric Boogie was eventually released, along with a video involving "nuff stuff. I was trying to display how shocking the video should be".
"That's the true story behind Electric Boogie. Unpolluted, undefiled, true story of Electric Boogie which has brought about this great dance called the Electric Slide," Bunny Wailer said.
Electric Slide put to rhymes
Electric Boogie became more than the song itself. The Electric Slide dance is a key motion to the music, but when Wailer wrote about it, the forward and backward step, turn and slick movement to the side wasn't invented.
In fact, it would be a decade before someone came up with the moves.
"Even the electric slide, it's an invention of words to make a rhyme. Because the line prior that say come make me take you on a party ride. Again me buck up inna the same ting. If you going down Electric Avenue you haffi go do the Electric Boogie. If I'm gonna take you on a party ride, I'll have to teach you the electric slide," Wailer said.
Ten years after it was recorded, when Electric Boogie started creating a stir in the US, someone put movement to the music.
"Because 'I will teach you the electric slide' was a simple rhyme to match back to 'let me take you on a party ride', these people now, so loved the song that they decided to make a dance called the Electric Slide to keep that song as something they have for posterity," Bunny Wailer said.
"It really started getting serious now because everybody was just learning this dance, doing this dance. It was unique because it was everybody moving in a unified manner," added.
Not performed at his concerts
Bunny Wailer does not perform Electric Boogie at his concerts, such as those in six European countries during his recently ended tour. In fact, Bunny Wailer has performed the song just once, at a Reggae Sumfest - and that was more of a presentation than a performance. "Me just make them play the song and some dancers go up and demonstrate the dance," he said.
- Mel Cooke