There is no doubt that women are holding their own in society. Increasingly, they are demonstrating that the days when women were limited to the house, or comfortably settled in inferior positions are gone. Today, there are many women who have fought the hard fight to overcome obstacles, just to make a difference in their lives and in society. While doing so, some have created a few historical moments.
As Flair celebrates its 25th anniversary, it is only right that some of these women and their accomplishments are saluted. Here is to 25 strong, influential Jamaican women!
Kerron Stewart

No one can forget the performances of Kerron Stewart at last year's Olympics in Beijing, China. She didn't get the gold medal, but her superb performances, which earned her a silver and bronze medal, can't be easily forgotten. At the recent World Championships, she also won a silver medal in the 100 metres sprint, and anchored the 4x100 team to gold.
Mercedes Richards

Professor Mercedes Richards has been involved in astronomy since 1979, having completed her Master of Science degree specialising in that area. Currently residing in the United States, she is a professor in the department of astronomy and astrophysics at Penn State University, as well as a Harlow Shapley visiting lecturer. Richards was also awarded the Musgrave Gold medal by the Institute of Jamaica for excellence in her field.
Marlene Malahoo-Forte


25
Marlene Malahoo-Forte was appointed by Prime Minister Bruce Golding in July to serve as state minister in the Ministry of Foreign Affairs and Foreign Trade. Last year, while serving as president of the Resident Magistrates' Association, she came under intense pressure from her legal associates after comments she made about her colleagues and their unethical practices. Having taken the legal fraternity by storm, she is now treading a new path in the government ministry.
Portia Simpson Miller

Opposition leader and president of the People's National Party, Portia Simpson Miller, or the self- proclaimed 'Mama' or 'Sister P', one of Jamaica's most powerful women. She became the country's first female prime minister and now, the first female opposition leader.
Lisa Hanna

In 1993, at the age of 18, Hanna won the prestigious Miss World title. Over a decade later and just as beautiful, Hanna has chosen a career in politics, serving as member of parliament for South East St Ann and is the opposition spokesperson for information and youth. She may be a pretty face, but she is not deterred by extreme challenges that may present themselves as she fulfils her political responsibilities.
Marlene Hamilton

Dr Marlene Hamilton became the first female pro vice-chancellor at the University of the West Indies. She was appointed to the post in 1991 and had the responsi-bilities of overseeing student and alumni relations. She was also deputy principal at the Mona campus.
Brigitte Foster-Hylton

Brigitte Foster-Hylton has no doubt had a great 2009. This year, she recorded two gold medals, one at the World Championships in Berlin, and then later, at the IAAF World Athletics Final in Greece. A 100-metre hurdler, Foster-Hylton had won silver and bronze medals at previuos World Championships.
Jevene Bent

On May 1, 2003, Jevene Bent made history, becoming the Caribbean's first female deputy commissioner of police. Making an indelible stamp on the Jamaica Constabulary Force, Bent joined the force right after leaving teachers' college in 1976.
Althea Laing

Althea Laing is known for her achievements in her modelling career. She was the first Jamaican and Caribbean woman to ever grace the cover of an international magazine cover - Essence. She started her career when she was 29 years old, which in modelling years is a relatively late start. Following her stint on the catwalk, she took to the classroom, teaching English language.
Merlene Ottey
Considered Jamaica's best female athlete, Merlene Ottey started representing Jamaica when she was 19 years old. The sprint queen created a name for herself in 1980 when she won a bronze medal at the Moscow Olympic Games. Honoured as an ambassador at large, Ottey gave up her Jamaican citizenship for that of Slovenia, representing that country in athletics.
Annette Wong-Lee

In 2007, Annette Wong-Lee was the only female to ever receive a badge of honour for gallantry. The businesswoman fatally shot one of two intruders who invaded her bedroom where her teenage daughter and other children were. In the tussle, she was shot in the ankle.
Olive Lewin

Dr Olive Lewin founded the Jamaica Folk Singers over four decades ago. Last year, she won the First Global Bank/Flair Woman of Vision Award for her contribution to the development of Jamaica. Her contribution was geared towards her documentation of Jamaican history and culture in the form of song and written material.
Alma Mock Yen

Alma Mock Yen is known for her tremendous work in, and dedication to, local radio. She has been credited with raising the interest, and ultimately inspiring, many current media practitioners who were among those privileged to be taught by her at the Caribbean Institute of Media and Communication at the University of the West Indies, Mona.
Thalia Lyn

Island Grill has been spreading its wings around the country and the Caribbean, with an outlet in Barbados. Its CEO, Thalia Lyn, has plotted the growth and direction of the fast-food chain, which was started in the 1990s.
Shelly-Ann Fraser

Last year at the Beijing Olympics in China, Shelly-Ann Fraser became the first Jamaican woman to ever win the 100-metre sprint at an Olympics. This year, the 22-year-old added the World Championships gold medal to her tally in Berlin, Germany.
Olivia 'Babsy' Grange

Olivia 'Babsy' Grange was raised in western Kingston. She started her political journey in 1983 under the leadership of then Prime Minister, Edward Seaga. Decades later, she is still actively involved in politics, as member of marliament for Central St Catherine. She is currently the minister of youth, sports and culture.
Blossom O'Meally-Nelson

Dr Blossom O'Meally-Nelson is recorded as Jamaica's first female postmaster general. Also appointed as the chief executive officer of the Postal Corporation of Jamaica during that time, she spearheaded many initiatives aimed at transforming the island's postal services. Now operating a family business, she has been the recipient of the Order of Distinction.
Ionie Ramsay-Nelson

In 1969, Ionie Ramsay-Nelson joined the Jamaica Constabulary Force. After 40 years of service, she retired on June 18 of this year after creating a few historic moments of her own. One of those was becoming the first Police female motorcycle. Ramsay-Nelson plans to enjoy retirement while helping the less fortunate.
Audrey Marks

She had a dream and she made it a reality. Audrey Marks is the successful businesswoman behind Paymaster, the bill-payment agency. Another of her accomplishments is that of being named the first female president of the American Chamber of Commerce.
Ruby Martin

Ruby Martin is a founding member of the Ward Theatre Foundation, which was established in 1989. Still actively involved in the foundation, she also has a heart for helping the less fortunate, serving as chairman for the Maxfield Park Children's Home for two decades. A cancer survivor, she is the perfect example of a powerful woman overcoming challenges.
Veronica Campbell-Brown

In 2004 at the Athens Olympic Games, Veronica Campbell-Brown walked away with not one, two, but three medals. She received two gold medals and one bronze. Last year, she successfully defended the 200-metre title in Beijing. She is a five-time Olympic medallist and a six-time World Championships medallist.
Zaila McCalla

On June 27, 2007, the Honourable Justice Zaila McCalla, assumed her post as the country's chief justice. Having been called to the Bar in 1976, McCalla held various positions, the last being judge with the Court of Appeal. She is the first female to be appointed judge in the Court of Appeal in Jamaica.
Anna Law

She has been helping clients to achieve a perfect smile as an orthodontist. Graduating from dental school in the United States at the top of her class, Law returned to Jamaica to practise and is recorded as one of the first female orthodontists in Jamaica.
Dorothy Ebanks-Rowe

Dorothy Ebanks-Rowe was the first female bus driver for the Jamaica Omnibus Service in 1969.
Paula Llewellyn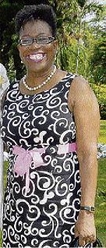 In 2008, Paula Llewellyn became the first woman to be appointed director of public prosecutions (DPP). Having served as a former senior deputy DPP, she succeeded Kent Pantry.